Gronau – Ein Abend swingender Jazz live – die Euregio Bigband machte es möglich. Sie hatte einige Gäste
geladen, die munter in ihren Reihen mitmischten und als Quintett den zweiten Teil des Konzertprogramms
gestalteten.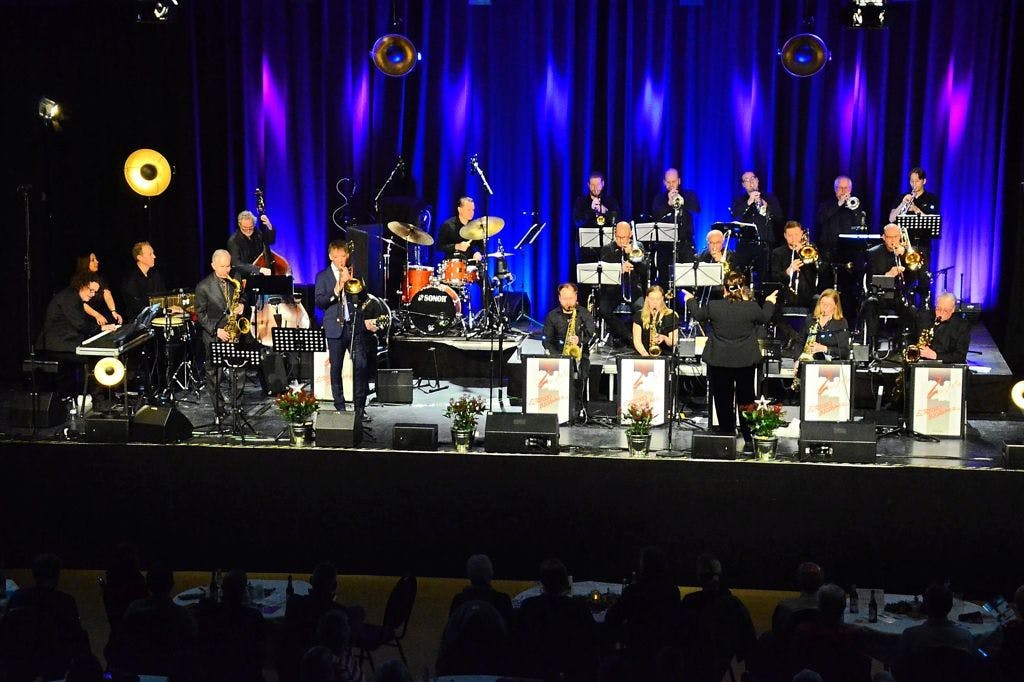 "Sing, sing, sing": Der Swing-Hit von Louis Prima aus den 1930er-Jahren wurde durch die knackige Interpretation des Benny-Goodman-Orchestras berühmt. Und wer saß zumindest in den letzten Jahren dieses famosen Orchesters – in der Reihe der Saxofonisten?
Genau: Scott Hamilton. Derselbe Scott Hamilton, der am Sonntagabend als Stargast der Euregio-Bigband in der
Bürgerhalle auftrat. Und bei "Sing, sing, sing" mitspielte.
Ära der Swing-Bigbands wurde lebendig
Das nach Livemusik lechzende Publikum erlebte ein Konzert, das die große Ära der SwingBigbands aufleben ließ. Ein kompakter Sound, rasantes Tempo wie bei dem Louis-PrimaStück, aber auch pulsberuhigende Tiefe bei den Balladen wie Cole Porters "Night and Day".
Nicht nur das Kollektiv unter Leitung von Natalie Schiemann verbreitet Wohlklang – auch die solistischen Fähigkeiten der Musiker sind erstaunlich. Bernd Nawrat (Posaune) – um ein Beispiel herauszugreifen – vermittelte große Souveränität in der Ballade "Summer never ends". Saxofonist Jan Oude Grote Bevelsborg setzte solistisch mehrfach Kontrapunkte zum Sound der Band, zum Beispiel beim Bossa "Softly as in a Summer Sunrise".
Von pathetischem Schmelz bis zur knisternden Spannung
Mit pathetischem Schmelz vollführten die Musiker den Oktavsprung zu "Over the Rainbow" –
nun: Das Stück hat auch etwas leicht Kuschelig-Kitschiges. Dafür vermittelte die Interpretation von Adeles "Skyfall" knisternde Spannung – Sängerin Dina Niehaus versuchte erst gar nicht, Adeles Stimme zu kopieren; ihr gelang dadurch erst recht eine eigenständige Version des Hits, intensiv und dynamisch.
"Blue Bossa" von Kenny Dorham spielte die Bigband in Gedenken an ihren verstorbenen Vorsitzenden Gert Poltrock, kündigte Moderator Stefan Busch an. Jos Machtel hatte den Bass-Part in der Bigband übernommen. Die anderen Stargäste des Abends, neben Hamilton, Martin Sasse (Piano), Joost van Schaik (Drums) und Bert Boeren (Posaune) – hatten sich immer wieder solistisch und in Duos ins Geschehen eingemischt. Bei "A Night in Tunesia" standen sie alle mit der Bigband auf der Bühne.
Konzentration stand ins Gesicht geschrieben
Nach 14 Titeln einschließlich Zugabe war der erste Part beendet – den zweiten gestaltete das Martin-Sasse-Trio mit Hamilton und Boeren. Und auch wenn Sasse und Boeren der Qualität der Bigband zurecht Respekt zollten und ohne deren Leistung im geringsten schmälern zu wollen: Da merkte man denn doch den Unterschied zwischen den Voll- und
Halbprofis.
Während den Bigband-Mitgliedern die Konzentration oft ins Gesicht geschrieben stand, sind die Profis eins mit der Musik. Hamilton verschmilzt geradezu mit seinem Instrument. Dazu der geschmeidig-sonore Ton, die Eleganz, mit der die Soli fließen, die Art, wie er die Töne formt, mit ihnen spielt – das hat eine eigene Klasse. Besonders gut zu spüren bei "Pure Imagination".
Die Quintettformation erlaubte es, genau zu beobachten, wie sich die Musiker die Bälle zuspielten, wie sie aufeinander eingingen. Van Schaiks dezentes Spiel auf Fellen und Becken, Sasses virtuose Klangfarbenspiel, die gezupften und gestrichenen Saiten des Kontrabasses vibrierten dazu und dann shakerte Boeren auch noch bei "Makin' Whoopee" mit der gestopften Posaune, der er witzige Töne entlockte.
Ein gelungener Konzertabend ging nach fast drei Stunden zu Ende.
Continue reading →